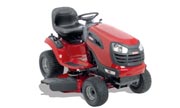 This is by far the newest tractor I have acquired.
According to the net it looks to be a 2009 with a 21HP single cylinder briggs.
At least in the short term this tractor will act as a donner. The rear tires will go to the DYT4000 until its new ones are purchased. As will the headlight wiring harness and sockets. Maybe the mower discharge chute.
Other than the engine it is also missing the gas cap, a front wheel, and maybe some of the front mower linkage.
Started a non destructive part-out. The rear wheels and headlight harness went to lurch the DTY4000. It was missing one front wheel so it only has the 1 front left.
Pulled the deck. The deck engagement is cable operated. Don't like that. The deflector is beat up on the ends but has a good hinge. Lurch has a better deck. Also noticed that lurch has smaller pulleys on the deck spindles. Wonder if they run faster or if the YST also had a smaller PTO drive pulley. Spindles might be the same.
The grass bins are a correct fit for lurch. If the pipe from the deck to the bins work it will be great.
The floor pan is sandwiched between the frame and the pedestal. The top half of the pedestal is plastic.
Tomorrow I plan to pull the tractor down to the frame. Maybe it can be used for a 4 wheel wagon. Want to see if the hydro would work as a spare for lurch.
The tractor is also missing the engine PTO pulleys but I think the one that came with the first 31P777 should work. That is if I ever collect enough parts to put it back together.